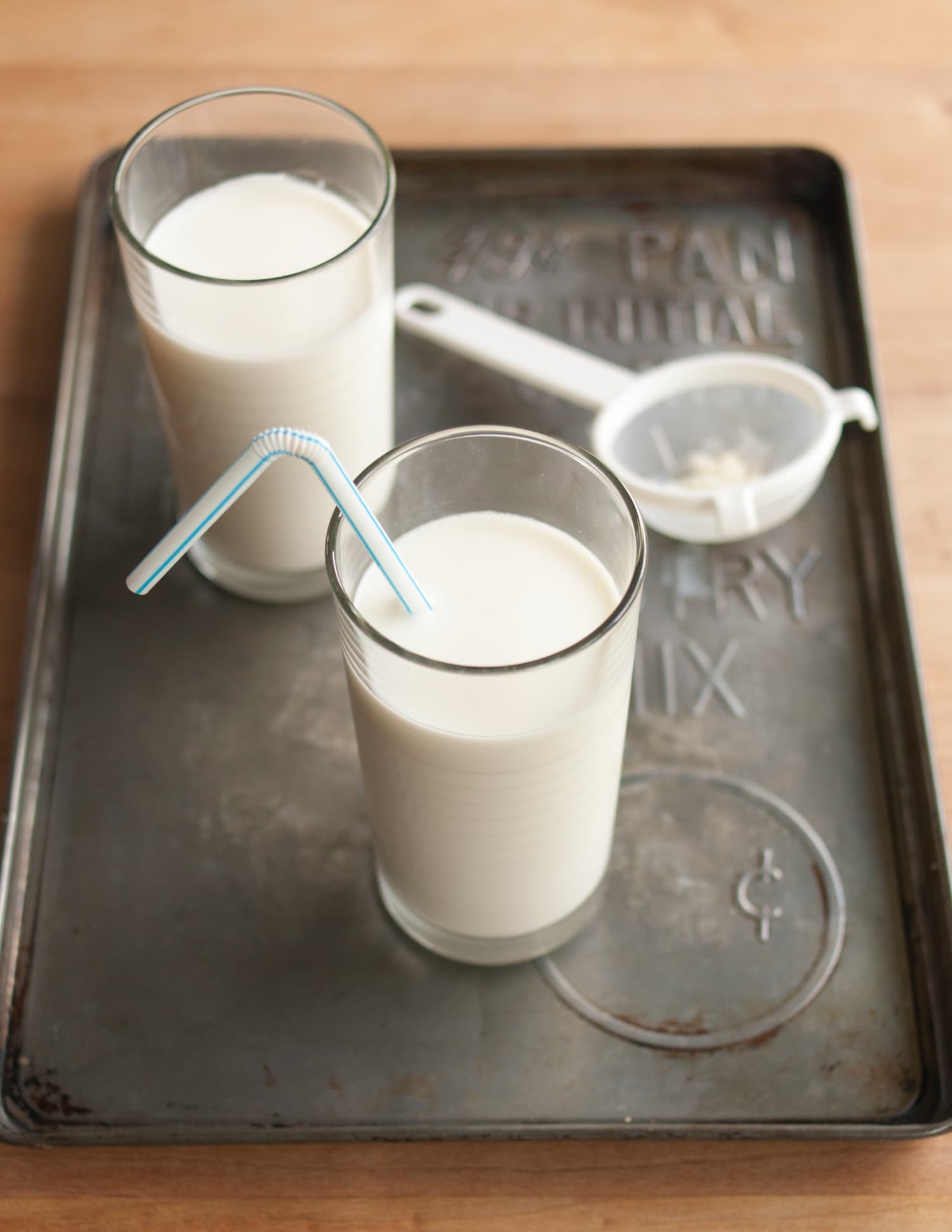 Milk is such a kitchen staple that it's always a bit of a disappointment when you discover the empty carton in the fridge. You might immediately change your mind about that bowl of cereal, but if your plan was to make pancakes, bake cupcakes, or make a creamy sauce there are plenty of milk alternatives out there. Which one you choose depends on what you're making.
Here's every substitute for fresh milk that we know and what to expect from each.
Sour cream or full fat yogurt can be substituted 1:1 for whole milk. Use this substitute in baking quick breads or for adding creaminess to pan sauces. Sour cream works especially well in recipes calling for buttermilk, too and vanilla-flavored yogurt can be used for sweet quick breads and cakes. The extra protein and sugars in the yogurt mean you should expect deeper browning in your baked goods.
If you've run out of milk, but the fridge is still stocked with your half and half for coffee, you're in luck. This is the best substitute for milk in everything from baking to making sauces and gravies. Here's how to swap half and half for milk: Combine 3/4 cup of half and half and 1/4 cup of water for every cup of whole milk your recipe calls for.
Non-dairy milks, such as oat, soy or nut milks can also be used as 1:1 substitute for milk in baked goods. They don't perform as well in sauces or gravies, but are a perfectly fine substitute for milk in your boxed mac and cheese — just be sure to use the unsweetened versions of these popular milks.
Got a dusty can of evaporated milk you bought for a recipe but haven't touched in a while? Evaporated milk can be diluted with water to replicate whole milk. Combine 1/2 cup of evaporated milk with 1/2 cup water to make one cup of replacement milk. This substitutions is best for cakes, cookies, and pancakes.
Non-fat dry milk can be reconstituted to replace skim milk with a ratio of 3 tablespoons of the dry milk to 1 cup of water. Dried milk is a great option for making sauces, gravies or even just mixing up your boxed mac and cheese but can be used in baking as well.