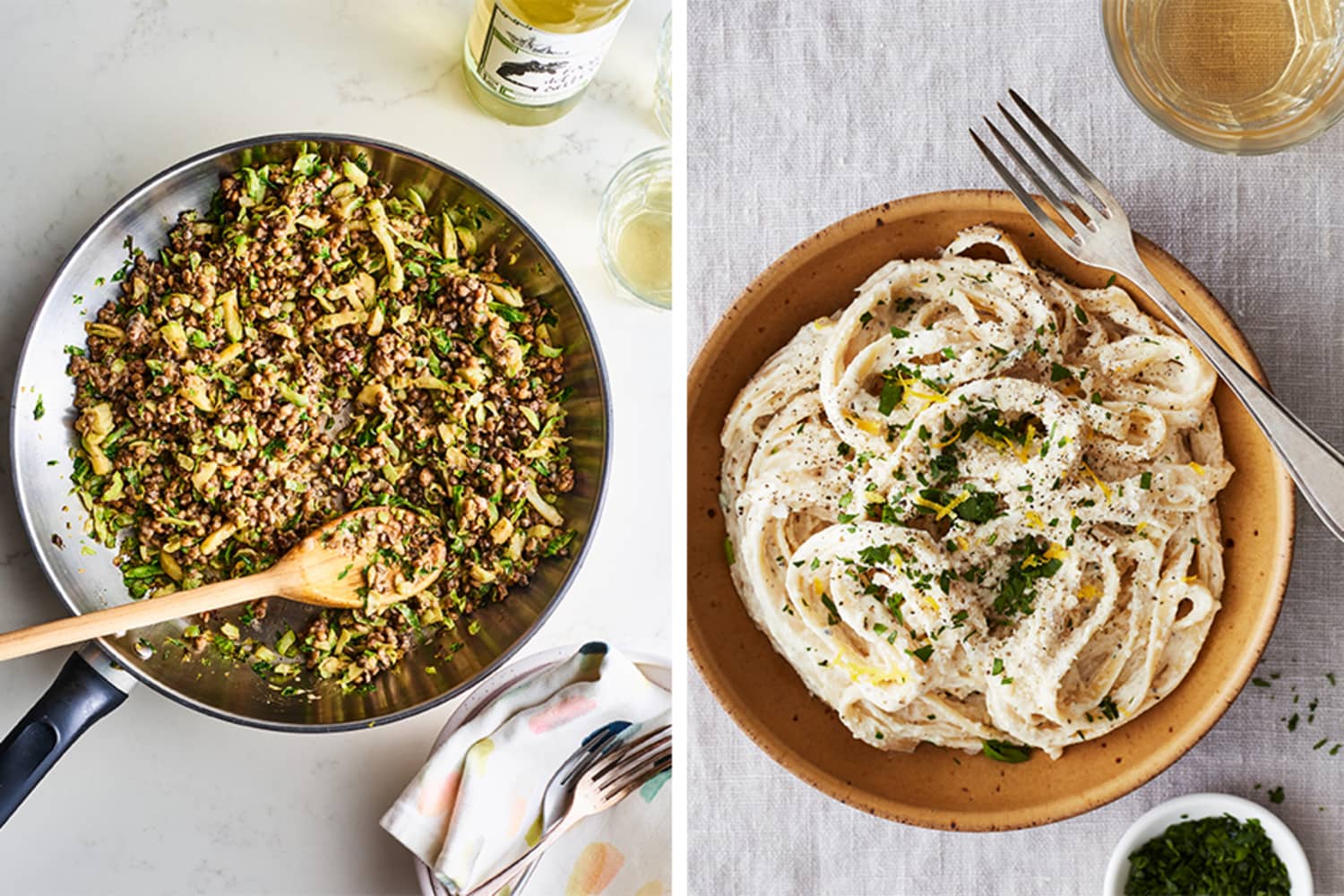 In light of the COVID-19 crisis, I've found myself counting my lucky stars for lots of things — a safe roof over my head, a family that lives nearby, and the ability to work and feed myself among them. I'm immensely grateful for a job that allows me to work from home, although it didn't take the novel coronavirus to come along for us to implement a WFH policy. Because the Kitchn team is scattered all across the continental U.S., working remotely is the way we've always done things around here.
Working from home can be both a blessing and a curse come lunchtime. If you forget to pack a lunch, no problem. Then again, if you have a jam-packed day, good luck consuming anything other than coffee and and entire bag of Goldfish. Since the Kitchn team has been figuring out the proper WFH lunch balance for a while, we thought we'd share our favorite recipes.
"I made a double batch of these sheet pan fajitas this weekend for both my husband and myself to eat for lunches. We just heat a handful of the potato, onion, and pepper mixture into a pan to reheat. Occasionally my husband fries an egg to put in his tortilla and I've also eaten them tostada style with beans and a crisp corn tortilla. Bonus: Our kids will eat the peppers and potatoes as a vegetable side to their Annie's mac and cheese." — Meghan Splawn, Associate Food Editor
Get the recipe: Sheet Pan Sweet Potato Fajitas
I riffed on this recipe just today. I dressed up a box of store-bought broth with miso, shiitake mushrooms, tofu, and chives that miraculously sprouted again." — Patty Catalano, Contributing Editor
Get the recipe: How to Make Miso Soup
3. Copycat Taco Bell Crunchwrap Supreme
4. Creamy Greek Yogurt Pasta
"Although I want to take long leisurely breaks to cook lunch, I really shouldn't. Therefore I end up cooking this simple pasta made with Greek yogurt quite frequently. It might sound weird, but using yogurt as a quick pasta sauce really works! It's tangy, creamy, and not unlike Alfredo. So once lunchtime comes around and I'm both starving and still un-showered, I make this pasta." —Jesse Szewczyk, Studio Food Editor
5. Mediterranean Chopped Salad
"Even when I'm working from home, I still like to batch prep a lunch that I can dig into throughout the week. I can't always count on having free time during lunch to cook something new each day, so it's comforting to know I already have something made. My forever favorite is this chopped salad which gets even more flavorful as it sits in the fridge, and is endlessly riffable based on what you have on hand." — Grace Elkus, Deputy Food Director
Get the recipe: Mediterranean-Style Chopped Salad with Oregano Vinaigrette
9. Warm Sesame Brussels Sprouts and Lentil Salad
"We've been eating this all week, and to be honest, I'm going to be sad when it's gone tomorrow. I couldn't get to Trader Joe's so I cooked a pot of French lentils, then also added in some leftover quinoa and baby spinach. At lunchtime my husband and I reheat what we plan to eat, mix our individual servings with dressing, and top with a jammy egg." — Kelli Foster, Associate Food Editor
Get the recipe: Warm Sesame Brussels Sprouts and Lentil Salad
What are you making for lunch right now? Let us know!