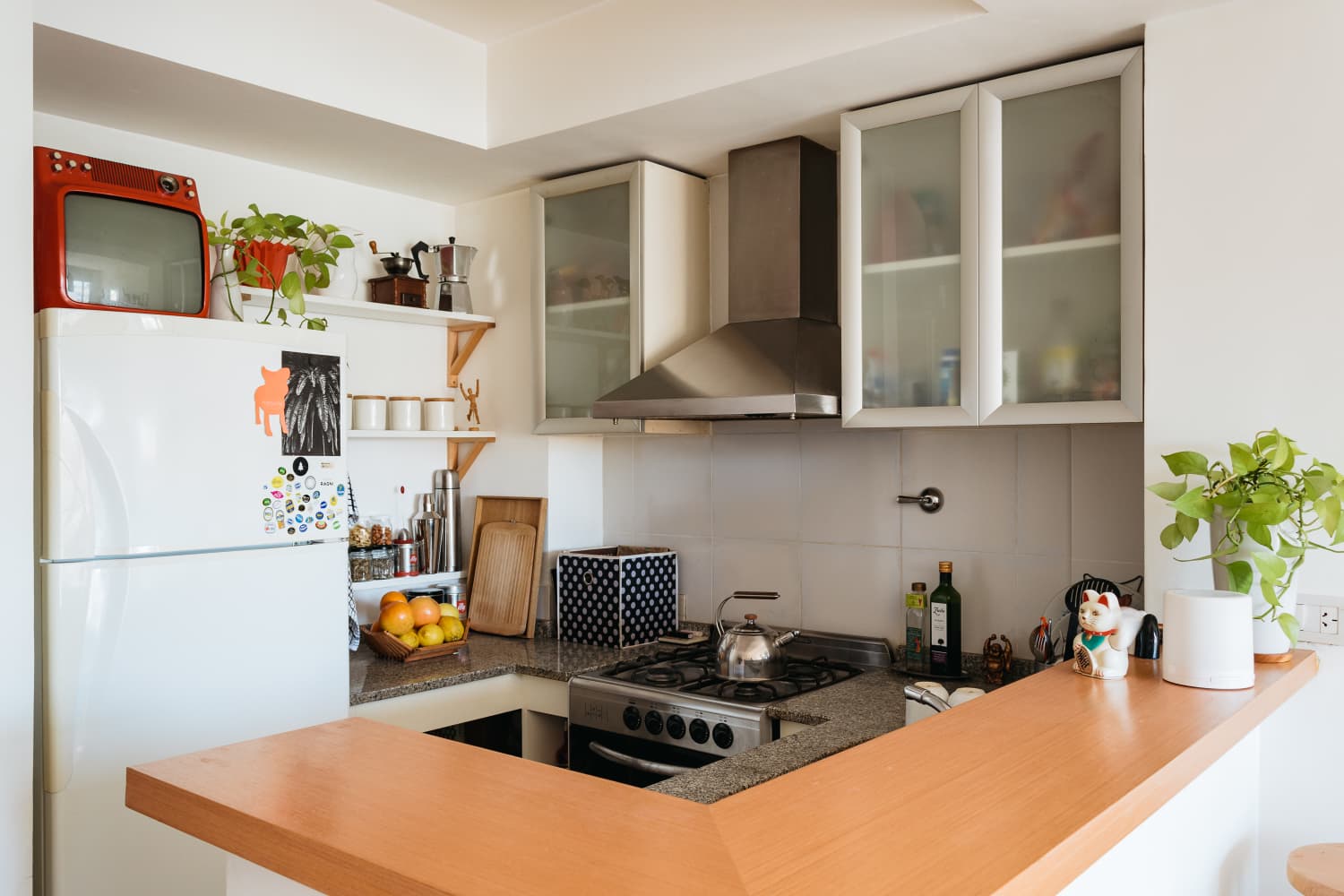 We independently select these products—if you buy from one of our links, we may earn a commission.
1. Expandable Bamboo Utensil Tray
Whether you live in a rental or have custom cabinetry, this expandable utensil tray adjusts from 13 to 22 inches to fit any kitchen drawer. Depending on the amount of space you have, you can use one to organize cutlery and another to corral kitchen tools, tea bags, or coffee pods. The low-profile sections make it easy to find what you're looking for, and the bamboo material is modern and easy to clean.
Buy: Expandable Bamboo Utensil Tray, $22 (normally $30)
2. Vertica Wire Stacking Bins
Storing produce can be tricky, especially if you're trying to stretch certain staples like potatoes, citrus, or onions for the long haul. These stackable bins come in two sizes, and since they're made from wire mesh, items can breathe so they'll stay fresh longer. Plus, it's easy to see just how much you have left of whatever you're storing — whether it's canned food, fruit, or snacks. Keep the bins tucked away in a pantry or display their industrial-chic style on your countertops!
Buy: Vertica Wire Stacking Bins, $18 (normally $22)
3. 2-Tier Bamboo Lazy Susan
Vertical space often goes wasted in kitchen cabinets, which is why we love lazy Susans. This two-tier bamboo design is only 10 inches in diameter and sturdy enough to hold a generous number of spice tins, canned items, and jarred condiments. The slight lip on the outer edge contains potential spills or drips, so your cabinets stay organized and clean. Take our advice and buy two!
Buy: 2-Tier Bamboo Lazy Susan, $13 (normally $17)
4. OXO Good Grips POP 5-Piece Canisters
If you've waited to purchase these chef-level canisters, right now you can save $10 while they're on sale. The set of five different sizes fits a range of common pantry goods that are best kept airtight (think: pasta, dried fruit, nuts, and coffee beans). They fit snugly together and even stack, so you can toss those bulky boxes and make the most of your storage!
Buy: OXO Good Grips POP 5-Piece Canisters, $40 (normally $50)
5. Stasher Silicone Stand-Up Reusable Bag
6. OXO Greensaver Produce Keepers
7. Expandable Under Sink Organizer
The deep, cavernous space under kitchen sinks can be hard to organize, particularly if you're navigating around plumbing. This two-tiered under-sink organizer can be customized to fit around garbage disposals or exposed pipes, plus it expands horizontally to make the most of the width of your area and offers the option of changing the heights of the shelves or removing them completely. Two pull-out bins are included, so it's easy to see and grab sponges or dishwashing pods, and the roomy shelves can fit bottles and boxes of cleaning supplies.
Buy: Expandable Under Sink Organizer, $32 (normally $40)
8. Pull-Out Lid Organizer
This pull-out organizer measures just over three inches wide and takes up minimal space in an under-counter cabinet while creating a sense of zen for anyone who loathes searching for the matching lid for their pots or pans (hello, nice to meet you too!). It works just as well for other flat kitchen items, including cutting boards, cookie sheets, serving trays, and more!
Buy: Pull-Out Lid Organizer, $10 (normally $13)
This pull-down spice rack makes use of the vertical space in your cabinet or pantry so you can easily view contents, and pulls out and down on a hinge so you can grab what you need without knocking anything over (aka the dreaded spice domino effect). Over a dozen jars or tins can fit comfortably among the three tiers, and they'll stay in place thanks to side guards. The design also makes it easy to keep your spice area clean; just pull out the rack and wipe down your surface.
Buy: Pull-Down Spice Rack, $16 (normally $20)