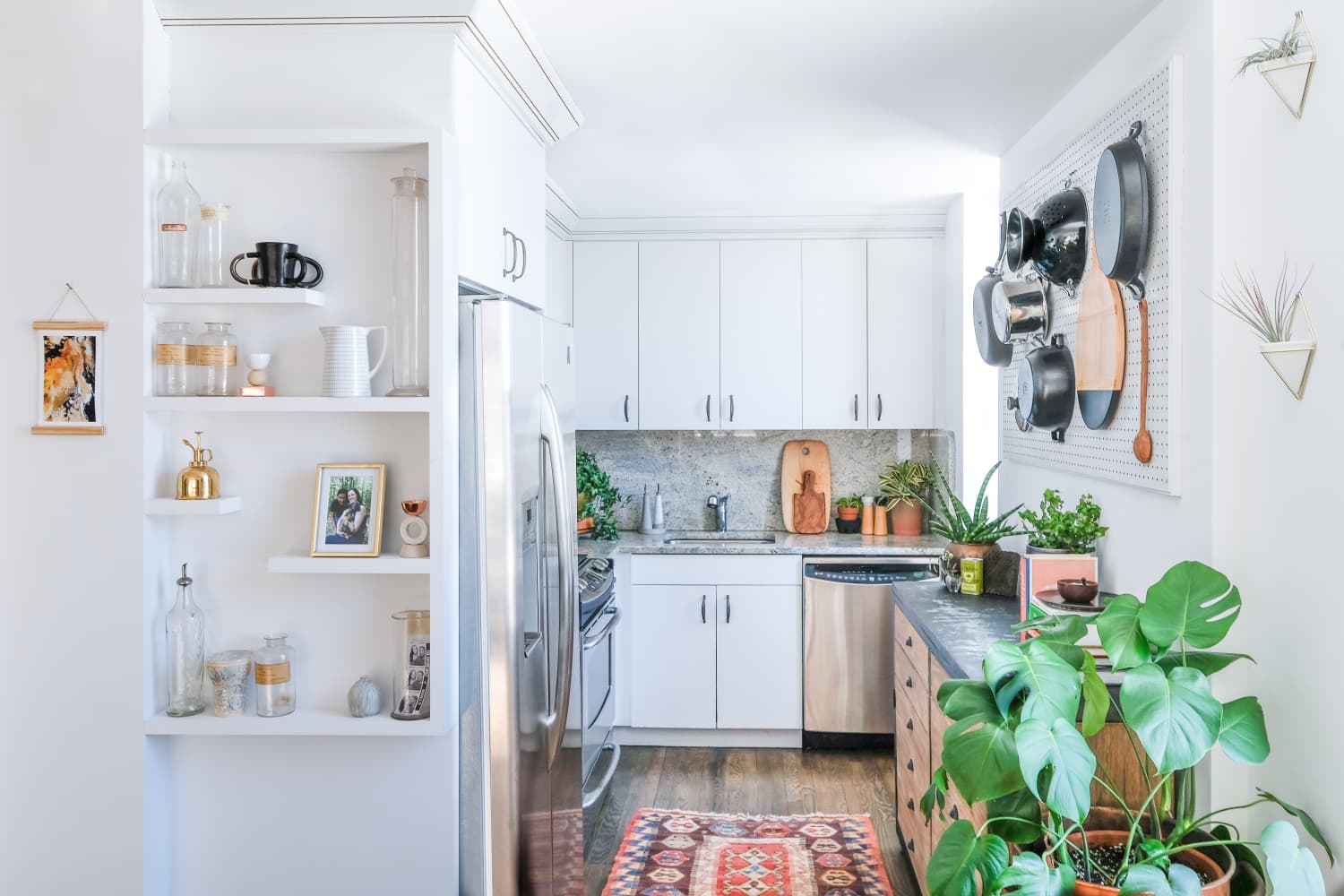 We independently select these products—if you buy from one of our links, we may earn a commission.
While our dream kitchens have all the storage space (and all the counter space), our real-life kitchens are often spatially challenged. But just because your cooking space is a bit snug, doesn't mean you can't make it work with a few smart storage solutions. We reached out to a handful of interior designers to find out what kinds of space-savvy items they recommend for small kitchens, and they had a lot to share. From under-the-sink storage solutions to floating shelves and more, here are their best finds for organizing any size kitchen, but especially itty-bitty ones.
1. Make the Most of Under-the-Sink Storage
"In small kitchens, don't let a garbage disposal get in the way of maximizing the storage under the kitchen sink cabinet," says Jean Liu of Jean Liu Design. "We love this tiered shelf at The Container Store because it allows cleaning supplies to be stored around the disposal unit." Anytime you add stadium-style storage to a cupboard, it'll not only let you take advantage of vertical space, but it also makes things easier to see and grab.
Buy: Chrome 2-Tier Sliding Organizer, $70 at The Container Store
2. Add a Freestanding Storage Cabinet
Have a blank stretch of wall in your kitchen? Then you can definitely pull off this idea. "A clever storage solution for a small kitchen is to use a standalone piece of furniture like this storage cabinet to house functional items and appliances," says Marie Flanigan of Marie Flanigan Interiors. "You can create the illusion of a clean and decluttered space by hiding items but keeping them easily accessible for everyday use." One of these would also be great to use as a pantry if you don't have one.
Buy: Ameriwood Home Freestanding Utility Storage Cabinet, $240 at Home Depot
3. Make a Storage Statement with Floating Shelves
4. Get a Lazy Susan (or Three)
"If you have a cramped kitchen corner, then you need a lazy Susan," says Leila Douglah of Douglah Designs. "Whether it's a full-corner lazy Susan or blind corner style, don't let that space go to waste." Opt for one that allows you full access to that corner with minimal effort like this marble model. You can also use these guys in a fridge for easy access to condiments.
Buy: French Kitchen Marble Lazy Susan, $100 at Crate & Barrel

5. Install Pull-Out Cabinet and Drawer Organizers
6. Stay Organized with Clear Storage Bins
7. Consider a Multifunctional Island
"To maximize your space for a smaller kitchen, consider using an island on casters or an island that can double as a table," says Drew Hoffpauir of Room Service. "The IAN Kitchen Island by Four Hands is the perfect fix for kitchens low on space with its pull-out extension that can stow away when not in use."
Buy: Ian Kitchen Island, $2,830.00 from France & Son