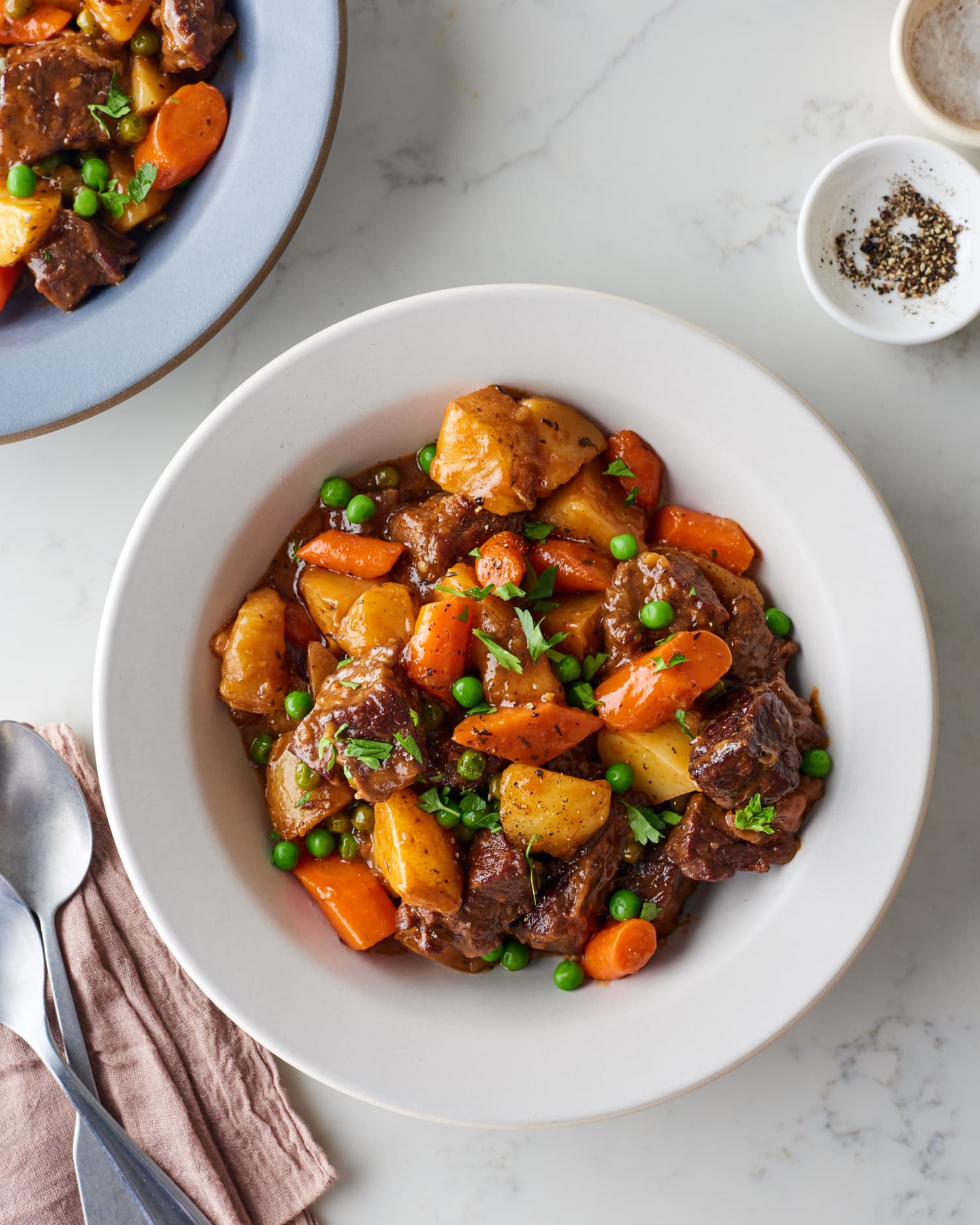 We independently select these products—if you buy from one of our links, we may earn a commission.
Is winter over yet? Perhaps it's just me (though I have a hunch it's not), but I'm getting to that time of year when I feel like those cold winter days will never end. Here's what I do to make it more bearable: Put a delicious, hearty stew on the stove and let it burble away. It's one of the best meals to eat right now. While some can be pulled off on a weeknight after work, most are best saved for the weekend, when the stew can simmer while you hang out inside. (Who wants to go anywhere?)
Here are 10 of our favorite winter stews to try right now.
Consider this beef stew, with thick chunks of carrot, potatoes and peas, an Instant Pot winter essential. While there's no denying that a pot of stew bubbling away on the stovetop makes the kitchen smell amazing, the Instant Pot can get you from pulling ingredients out of the refrigerator to sitting down to dinner in just about an hour.
Get the recipe: Instant Pot Beef Stew
2. Vegetable-Heavy Beef Stew
Classic beef stew is all about, well, the beef — with a few basic veggies thrown in for good measure. But this version takes the opposite approach. You're still treated to chunks of super-tender chuck roast swimming in gravy, but the heart and soul of this stew is the medley of seasonal vegetables, like petite carrots, parsnips, and rutabaga. If you have a winter squash lying around, consider adding it.
Get the recipe: Root Vegetable Beef Stew with Mushroom and Spinach Polenta
3. Slow Cooker Beef and Kabocha Squash Stew
If there's a soft spot in your heart for winter squash, you cannot let the season pass by without trying this stew. An Italian twist on the classic, this recipe skips the traditional vegetables in favor of winter squash, adds in sun-dried tomatoes, woodsy herbs, plus a splash of Marsala wine, which lends a tiny punch of tang. If you can't get your hands on kabocha squash, go ahead and substitute an equal amount of butternut squash. It will work just as well.
Get the recipe: Slow Cooker Beef and Kabocha Squash Stew
4. Slow Cooker Curried Vegetable and Chickpea Stew
While I happily make this stew all year round, it's a staple in my meal plan line up during the winter months. The beauty of this hearty plant-based stew is that it comes together largely with pantry ingredients and is incredibly versatile. It's the kind of dish where it's easy to make swaps based on what you already have on hand. For example, while the recipe calls for chickpeas, any kind of canned beans or even cooked lentils will work. The same goes for the leafy greens and potatoes. Serve the stew on its own, ladle over a bed of rice, orzo, or grains, or keep a piece of crusty bread on the side for dipping.
Get the recipe: Slow Cooker Curried Vegetable and Chickpea Stew
5. Pork, Poblano, and Pumpkin Stew
Inspired by classic chile verde, this hearty, spiced stew changes things up with tomatoes (both paste and canned) plus a blend of fragrant, warm spices, and of course, winter squash. Pumpkin can be hard to come by after the fall months, but butternut or kabocha squash work just as well. In fact, I prefer to use butternut squash since I can buy it already cut, which minimizes the prep time on this already weeknight-friendly stew. It starts with a pork tenderloin, which gets seared in the pot, then added back into the stew for a few minutes at the end of cooking. Since it's such a lean cut, it needs very little cook time, compared to the tradition tough cuts, like pork shoulder that are typically used in slow-simmered stews.
Get the recipe: Pork, Poblano, and Pumpkin Stew
6. Tofu-Miso Stew Casserole with Sage Biscuits
This plant-based stew is made of veggies doused in a rich miso gravy. It tastes and feels almost like a chicken pot pie. Whole-wheat flour, homemade stock, miso paste, and dark sesame oil fill in for cheese and cream, binding the ingredients together into this totally satisfying combo of carrots, turnips, and mushrooms, dotted with pops of spicy fresh ginger. You'll want to save making it for a weekend or day when you have some extra time. It can prove time consuming — though it's always, always worth it. The recipe starts with a homemade vegetable stock, though you can swap in boxed broth to save some time.
Get the recipe: Tofu-Miso Stew Casserole with Sage Biscuits
7. Kale and Cannellini Bean Stew
Like any good stew, this one leans hard on a plentiful mix of white beans, a medley of hearty vegetables, and a generous addition of winter greens. And then there's also the gravy, or in this case the broth, which may be the star of the whole bowl. The Parmesan-garlic broth that's the base of this wholesome stew is going to be your new BFF when you need deep flavor but don't want to add meat. You can use it in other stews, soups, risottos, and pastas. It's also rich and full-bodied enough to sip solo as a light meal or pick-me-up on a chilly afternoon. If you're not already stashing Parm rinds in the freezer, this is the best reason to make it a new habit.
Get the recipe: Kale and Cannellini Bean Stew
8. Slow Cooker Chile Verde Stew
Chile verde is more than a stew. Pork shoulder is rendered into supple, tender meat after a slow simmer in a flavorful sauce of roasted tomatillos, peppers, cilantro, and oregano. The resulting meat and sauce can be poured over a bowl of rice or tucked into a tortilla for tacos. While the salsa verde requires a little prep work up front, the rest of the cooking is hands-off, thanks to the trusty slow cooker. This is a perfect dish to perfume your house on a cold winter day.
Get the recipe: Slow Cooker Chile Verde Stew
9. Slow-Cooker Beef and Barley Stew
On the next snow day, this is the stew to make. Taking inspiration from beef and barely soup, this winter essential is the best of both worlds. The stew takes a little bit of prep work, but once everything is in the slow cooker, you can sit back and relax while it cooks away. This winning combination of thyme, beef, and mushrooms will never go out of style, and adding in pearl barley bulks up the stew even more.
Get the recipe: Slow-Cooker Beef and Barley Stew
10. Coconut Chicken and Sweet Potato Stew
This recipe keeps everything we love about chicken stew, but takes cues from a favorite Brazilian dish to make it feel fresh and interesting. It's mixed with smoky spices, citrus, chiles, and tomatoes for a punchy flavor, plus coconut milk for richness. You'll want to stick with boneless thighs over breasts here. Not only are they more flavorful, but they hold up better and are less likely to become dry. While the ingredient list may seem a little intimidating, give it a chance: It's actually quick cooking, and even doable on a weeknight.
Get the recipe: Coconut Chicken and Sweet Potato Stew